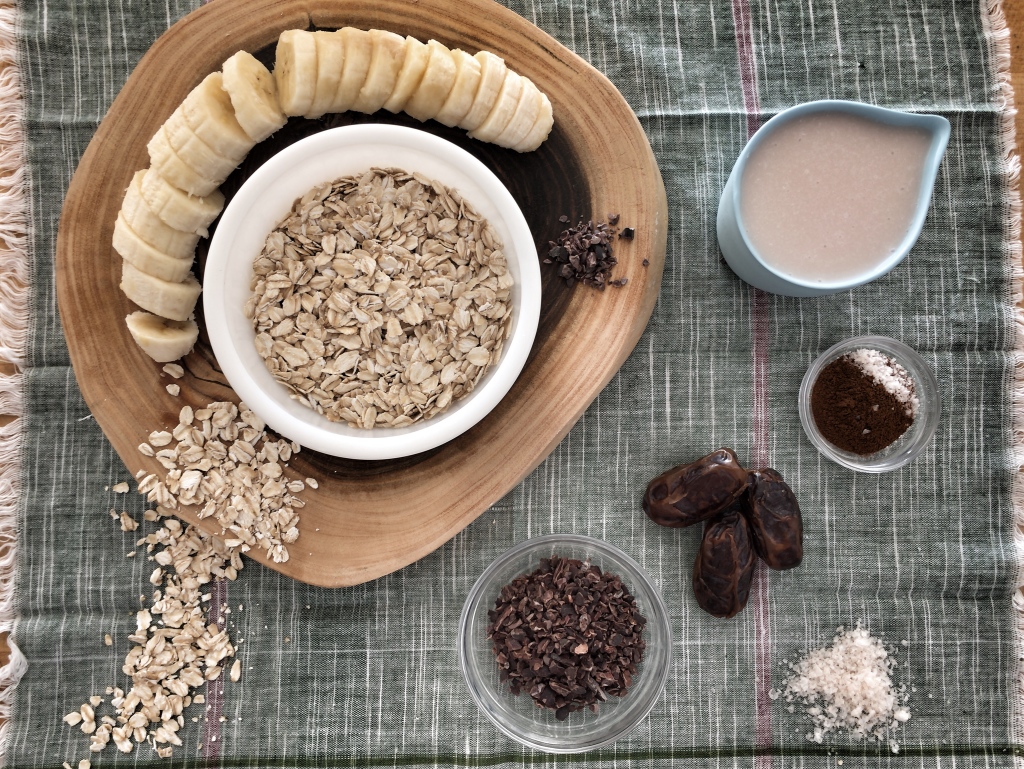 The health benefits of starting the day with oatmeal have long been touted and I can't argue with them. Yes, it fills me up and keeps me full until lunch. Yes, many things can be added for extra nutrients or to change the flavor. Yes, it's great for cholesterol levels and has a low glycemic index but all that starts to sound like "blah blah blah" when faced with my 20th oatmeal morning. If you're cooking the real stuff (I haven't opened a pack of instant oatmeal since the early 90's) there's only so much you can do until you're confronting boredom in the bowl.
I've been hearing about baked oatmeal for a while but until now had never tried to make my own. I jumped online, goggled "baked oatmeal," read a few recipes for inspiration and then just got started making it up as I went along. I'm a big fan of the "use what you've got" approach to cooking so staring at a ripe banana and a few leftover dates I immediately knew where to start.
Banana Chip Baked Oatmeal
serves 2
1 cup Rolled oats (if you prefer to use steel-cut, soak them overnight first)
1 cup Unsweetened vanilla  coconut milk (I'm sure almond works too)
1/4 cup Raw cacao nibs (full of antioxidants!)
1 Ripe Banana (mashed but still chunky)
3 Dates (pitted & sliced)
1 tsp Baking Powder
1 tsp Cinnamon
½ tsp Vanilla Bean Paste (pure vanilla extract will do) 
1/4 tsp Salt
1) Preheat oven to 350°
2) Put everything but the dates into a bowl and stir until well mixed and no dry clumps remain.
3) Place mixture into individual baking dishes or single dish and lay date slices on top.
4) Bake for about 15 minutes. Oatmeal is ready when top is set and slightly darkened.
Options: nuts (mix into oatmeal, if you sprinkle them on top they could burn), raisins, dried cherries/berries/apricots, mix in a little maple syrup if you need more sweetness, berries/peaches/apples/figs (mixed in or on top). Once removed from the oven top with- dried fruit, nut butter, jam, fruit preserves, or drizzle with honey.
Nutrition boost: mixed in- protein powder, chia seeds, maca powder, acai powder, bee pollen (sprinkled on top).
♥