My dear friend, guest blogger and "Under the Dome" make up artist Rick Pour is more enthusiastic about cocktails than any non-professional mixologist I have ever met. Be warned: his recipes are not for the impatient! 
Hello. My name is Rick Pour and I'm a film and television make-up artist by trade. Being that I have never worked behind a bar as a means to make money, I don't consider myself a bartender or "mixologist," I am however, an avid cocktail enthusiast. I love craft cocktails and am very much enjoying the recent resurgence of cocktail culture.
To give you an idea of how much I enjoy my cocktails…well, my work has me traveling a lot, and one of the first things that gets packed in my luggage is a cocktail shaker and jigger. And one of my first orders of business when I arrive in a new town is to track down the bar that will be the hangout for my time on that gig. I usually look for places that know the classics and/or have a knowledge of new or unusual cocktails.
At home, my approach to crafting a cocktail begins with figuring out good flavor combinations. I feel that the new cocktail movement is a very important part of the culinary arts and this excites me.
The following are a couple of infusion cocktails I've made that over the last couple of years have become staples at our house. These take a few days of prep to allow the infusions to become fully realized.
The El Diablo Margarita
2 oz. of Strawberry-Chipotle Tequila
½ oz. agave
Juice of 1 lime
Splash of jalapeno puree
Basil and strawberries for muddling and garnish
Start with a good mid-grade blanco tequila (save the bottle). Note: I've found that many infusions tend to mask the harshness or imperfections of most non-top-shelf liquors. So while I don't recommend cheap rot-gut, I don't see the need to spend that type of money on high end spirits for infusions. In a wide mouth jar, place the tequila and a whole dried chipotle pepper. Seal the jar and let the pepper sit in there for about 24 hours. Feel free to give a shake every once in a while. You'll know the tequila is ready when it's the color of bourbon. If you let it infuse for longer than 24 hours it overpowers the other flavors. Once you remove the pepper, it's time to add strawberries. One container usually does the trick. Cut off the ends and discard, and then slice them in half. Dump them all into the jar and re-seal. This next infusion tends to take a day or two. You'll know that it's time to remove the berries when they have turned white and float to the top. Once you've strained out the strawberries, re-bottle the tequila. You're now ready to make your cocktail.
In a cocktail shaker place 4-5 basil leaves and a few slices of strawberries, add 2oz. of the tequila and muddle them. Add ½ oz. of agave syrup and the juice of 1 lime. (You can adjust the ratio depending on if you want a sweeter or a more sour drink). Add ice and shake! Serve in a traditional margarita glass (salted rim is optional, I've found that a smoked sea salt is stellar). Drop a splash of jalapeno puree on top. (Place a fresh jalapeno pepper or two in a blender with some water and puree it. Easy!) A note regarding the puree…you may want to cut the peppers in half and remove some or all the seeds depending on how hot you want it. Garnish with a sprig of basil and a slice of strawberry. What you'll have is a sweet, tangy, smoky cocktail that gives a slight burn at the back of the throat. The basil really makes the strawberries pop. It's one of my favorite drinks.
The Persian Martini
2 oz. of Saffron infused Gin or Vodka
½ oz. simple syrup
Splash of rose water
I was born in Iran and while my family moved to the United States when I was only 3 or 4 years old, I still remember a few distinct flavors from my childhood. One of these was a saffron-rose ice cream that my mom would make so I decided to try and make a cocktail version.
This one works great with gin or vodka depending on your preference. I've used either cheese cloth or a coffee filter for this infusion. I put enough saffron in the middle of a coffee filter to make the equivalent of your average tea bag. (Yes, I know this is expensive-ish as saffron tends to be pricey; there's usually an abundance in our house as it is a staple in Persian cooking). Tie the filter off with a long sting. You are essentially making a saffron tea bag with a long enough string to suspend in a jar of your chosen spirit. Pour the gin or vodka in a wide mouth jar and drop the bag of saffron in, leaving part of the string hanging out of the jar for easy removal. Seal the jar and let it sit for 3-4 days (a week if you can wait that long, the longer the better with this one.) Again, give it a shake every once in a while. It should be a beautiful orange/yellow color. Pull out the bag of saffron and discard. Using a funnel so you don't lose any, re-bottle the liquor.
In a cocktail shaker filled with ice, add 2 oz. of saffron infusion, ½ oz. of simple syrup and a splash of rose water (too much and it'll overpower and taste like perfume). Shake and serve in a martini glass. I made this for my mom a while ago and she literally teared up a bit. She was shocked by how much she liked it. I ended up making her a bottle of the infusion for her birthday.
Hope you dig these!
-Rick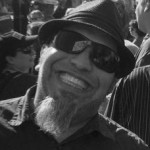 Rick Pour is a professional make-up artist who most recently worked on Under the Dome and Banshee. In addition to his passion for cocktails, Rick is a dog lover, motorcycle enthusiast, black t-shirt ambassador and is always up for pickle-back.