by Kasey Price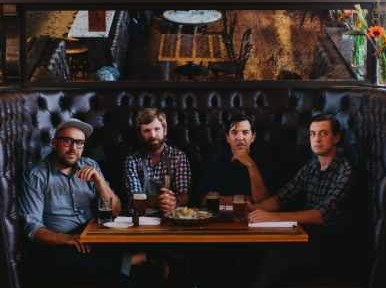 (From L-R ) Matt Christison, Bryan Rackley, Miles Mcquarrie and Jesse Smith. 
Kimball House, located in an old railway depot on the outskirts of Downtown Decatur, was once but a twinkle in the eye of four friends who shared a rock 'n roll lifestyle and a mutual penchant for fancy food and cocktails. Matt Christison, Bryan Rackley, Miles Macquarrie and Jesse Smith worked behind the bar together for years at the Brick Store Pub and teamed up with Dave Blanchard, Mike Gallagher and Tom Moore to open Kimball House in fall, 2013.
The name "Kimball House" pays homage to the historic Atlanta hotel from which the restaurant draws its aesthetic and culinary inspiration.
The massive bar is built from the railway depot's original wood flooring.
Personal touches are everywhere; a taxidermy bobcat shot by Macquarrie's father-in-law keeps a watchful eye over patrons from its perch at the back of the restaurant.
The high ceilings are decorated with the building's original pulley fan system and oversized antique mirrors adorn the dining room walls.
Kimball House's menu features 20 oyster varietals accompanied by cheeky tasting notes and their innovative cocktails are made with housemade syrups and tinctures.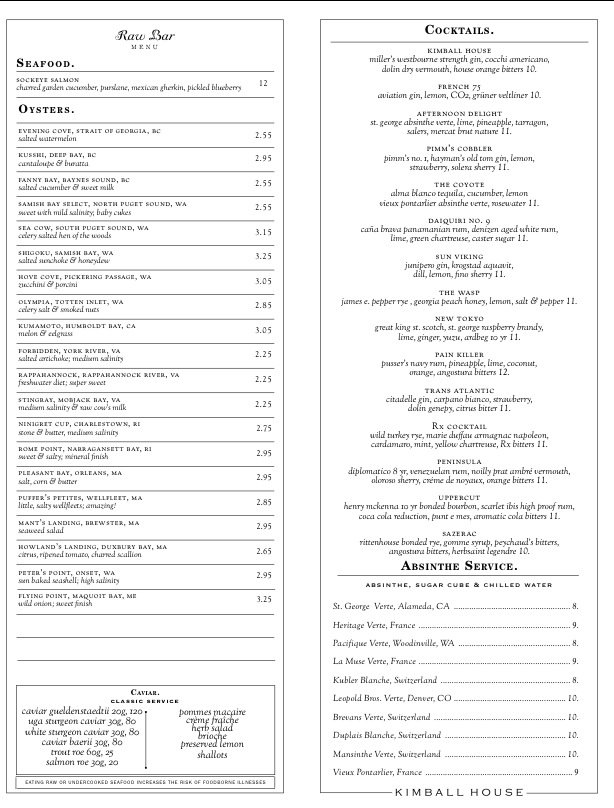 Rackley and Macquarrie talked to me about what really shucks their oyster and slings their drink.
Bryan, What would you say makes the Kimball House menu stand out from other Southern influenced cuisine in Atlanta?
Both Jeff and Philip, are French trained so they love to cook in that style. However, we get our produce from the closest sources possible so quite often they are cooking with components that are considered Southern. A lot of people think of Southern and French cooking as super rich and heavy and our chefs don't really like to cook that way. They gravitate towards lighter, brighter vegetable heavy dishes, which is how I like to eat, so it's working out great for me.
What made you oyster obsessed?
That was a pretty organic progression. We were fairly aware of the roles we would play in the restaurant and I took to the role of studying and preparing food. I think oysters are absolutely the best way to start a meal and we knew early on in the planning stage that we wanted to offer them. One of the things that Miles and I have in common is that we are both pretty psycho for knowledge and are unwilling to half-ass anything related to our business. I read a couple of books and then read a couple more and the next thing I knew I was alienating pretty much everyone I knew with oyster talk…especially my wife. 
What is currently your favorite oyster and why?
I'm not a huge fan of declaring favorites. Oysters evolve all year long depending on water temperature, diet, spawning seasons and rainfall. People's tastes should evolve too. My favorite drink when I was a kid was some kind of Kool-Aid that resembled the fluid they used in commercials to test the absorbency of tampons. If that was still my favorite drink that would be pretty messed up. Glidden Points in the late Fall are pretty amazing though. 
Your raw bar is offered year round. What do you tell customers who say they thought it was only safe to eat oysters in months with an "r" in them?
I'd say eating Gulf oysters in the summer is not all that smart, that's where most cases of people getting sick occur in summer. There is constant testing for Vibrio bacteria going on though. If you're willing to eat at a salad bar then you shouldn't be afraid of an oyster. Although you might consider ordering oysters that come from cooler bodies of water. Oysters also spawn in Summer, so watermen are partially to blame for the proliferation of the "r" month story. If I'm a guy that makes a living off fishing for wild oysters, I'm probably not going to want to see you eating future generations of oysters during those critical summer spawning months. 
What is the Mercedes-Benz of oyster knives? 
The Benz is definitely the Williams Co. oyster knife. I've got a couple and they are beautiful. They have a good sharp tip too, which makes them very functional in my opinion. I drive a pickup though, not a Benz. For my money I'll take the Cape Cod blade from R. Murphy. That's what we use at KH.
What is your favorite drink to pair with oysters?
Well it depends on the species. Pilsners work fairly well with all oysters but they're not the most dynamic choice. With Virginica oysters I really like champagne. Guezes and other dry sours can be really cool parings too. They are so acidic they almost work the way a mignonette does. We've been pouring a pretty tropical Sancerre at the restaurant lately that pairs very well with Gigas (West Coast) oysters. I also tend to enjoy sparkling absinthe cocktails with just about any oyster. 
Miles, you earned Creative Loafing's Best Bartender title two years in a row and your recipes have been featured in Southern Living, Food & Wine and Bon Appetit. What goes into crafting the perfect cocktail?
I don't know that I can say I know how to craft the perfect cocktail, but what has worked for me is starting with an understanding of classic cocktail formulas and then seeing how I can bend the flavors to incorporate some new culinary techniques and seasonality.
Sidling up to the bar here feels like being in a chemistry lab! And where is that smoke coming from?!
We do use a lot of dropper bottles and beakers to stir drinks in but it's not just for show. A lot of the deep spice and interesting flavors we incorporate into the drinks are based on using tinctures and bitters made in-house, as well as different acids besides just lemon and lime juice. The smoke is liquid nitrogen. We use it to chill things like the mixing beakers and to flash freeze herbs for "Nitro Muddling," a technique created by Dave Arnold of Booker & Dax.
KH conjures up a feeling of traveling through time. Your take on classic concoctions like the Sazerac and the Kimball House martini are a throwback to the period surrounding Prohibition. You even have Absinthe service. What is it about this particular era and its cocktails that sparked your interest?
There is something very mysterious and romantic about the culture surrounding vintage cocktails and the drinking era before and leading up to prohibition. I really like the look of classically styled cocktails in vintage cocktail glasses and we were pretty excited about using things at Kimball House to make people feel like they've been transported to another era.
You have a tiki bar and a gentleman's quarters stocked with spirits at home, what's your favorite drink to make yourself when you're relaxing?
This is always a hard question for me to answer because it's my job to drink and explore every style of cocktail. Sometimes I want something bright and high acid, sometimes I want something stiff and dry, sometimes I'll go for something tropical that nods toward the tiki era. Overall I definitely tend to prefer things that go more towards the elegant, clean, and dry side.
What advice would you give to someone starting out in the service industry that has dreams of opening their own bar someday?
Stick with it. Never give up. It's hard work, but it can also be very rewarding. ♥
Photos courtesy of Kimball House.
Kimball House is located at:
303 East Howard Avenue
Decatur, GA 30030
(404) 378-3502
Guest blogger Kasey Price is a Georgia peach who recently moved back to Atlanta after a six year stint as a music publicist in New York City. She has an insatiable wanderlust, a penchant for unique takes on vegetarian dishes and craft cocktails, and is forever on the hunt for her next adventure.